Skull and Bones – Logo
The most recognizable of all Skull and Bones symbols is their Logo. Their logo features a skull with 2, scientifically inaccurate, femur bones in a cross pattern behind the skull. The skull also features a top row of teeth still connected and a missing jawbone. The eye sockets are misshapen and there appears to be 2 large fractures on the left side of the skull. The femur bones are aligned behind the bottom of the remaining teeth. Centered under the skull and between the femurs, the Skull and Bones logo features the number "322."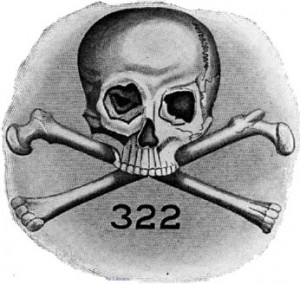 The Bonesmen tell a story that Skull and Bones is a descendant of an old society of Greek patriots founded by Demosthenes before his death in 322 BC. The 322 is also understood as "founded in 32, 2nd corps." 32, meaning 1832 the year the society was formed, and 2nd corps in reference to the German Institution that Skull and Bones founder William Huntington Russell visited in the early 1830s. The founded in "32, 2nd corps" is a heavily circulated piece of information that is most likely false.


Skull and Bones – The Tomb
Another Skull and Bones symbol is their iconic Skull and Bones hall. "The Tomb" was initially built in 1856. In 1903, it doubled in size with the addition of a second wing and the towers in the rear garden were added in 1912 completing the structure. The Tomb is completely windowless and architecturally symmetrical. Room 322 is a large open room in the middle of The Tomb where the initiation rituals are held. The front of the tomb is made of brownstone and has 2 large iron doors that are locked all times with padlocks. In the rear, there is an enclosed garden that was built by descendants of 1837 Bonesmen William Evarts. The property is partially surrounded by a wrought iron fence. The actual structure has been designated a landmark in New Haven Connecticut.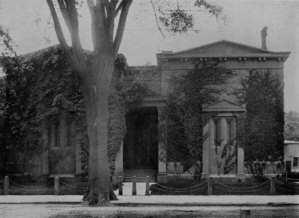 The Tomb is managed by The Russell Trust Association along with the rest of the over $4.2M of Skull and Bones assets. The interior of the tomb is filled with decorations that highlight the symbols of Skull and Bones – skeletons, figures of death, and other gothic themed decorations. In her book Secrets of the Tomb, New York Times bestselling author and Yale secret society member Alexandra Robbins details the some of the possessions held at The Tomb, including the skulls of:
Mexican General Pancho Villa
Former President Martin Van Buren
Artwork inside The Tomb
Not surprisingly, The Tomb is decorated with a lot of Skulls and Gothic style paintings. There is a great video on Youtube that shows some of the external artwork as well as the courtyard around The Tomb. The video is limited to what the author had access to from outside the doors.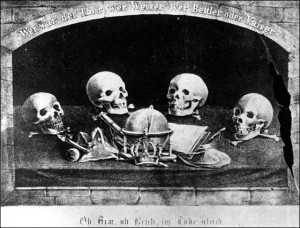 Inside The Tomb, a gift from the German predecessors hang above room 322. The painting features a set of skulls surrounded by Masonic symbols along with the slogan "Wer war der Thor, wer Weiser, Bettler oder Kaiser? Ob Arm, ob Reich, im Tode gleich." Translated to english, the painting says "Who was the fool, who the wise man, beggar or king? Whether poor or rich, all's the same in death."